Bitcoin as the new gold?
Bitcoin as the new gold?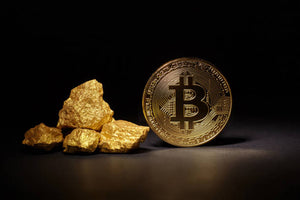 FRACTIONAL GOLD EAGLES ON SALE
SAVE AS MUCH AS 22% COMPARED TO
Gold is cheap right now. Inflation looks like it will be with us for a long time. Interest rates are killing the real estate market and the stock market has been a wild roller-coaster. Crypto currency, such as Bitcoin and Ethereum, are a fraction of what they were worth just months ago.
So many people thought Bitcoin was the "New Gold', a perfect inflation hedge. It turned out to be wishful thinking. Bitcoin really only had a track record of a few years so depending on it as a sure thing was sheer craziness.
Bitcoin was $69,000 less than a year ago and has recently traded under $20,000!
The Dow was just under 37,000 and recently dipped below 30,000 and many experts are expecting a recession to take it lower.
So, even though gold is in the mid $1,800s it has actually held up much better than many of the alternatives. Buying at a lower gold price, as it is now, makes a lot of sense. A lot of people will decide to wait and see what happens. It is typical when a market is quiet. People see no reason to jump in when a market is quiet. Don't wait too long.
Not only are gold spot prices lower right now but premiums are better than normal also. That gives you an extra discount and an even better buy.