INCREASE YOUR PROFITS BY AS MUCH AS 20% WITHOUT SPENDING A DIME
INCREASE YOUR PROFITS BY AS MUCH AS 20% WITHOUT SPENDING A DIME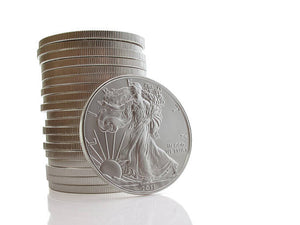 I have written to you, my clients several times about how to use the current market's ridiculous premiums to your advantage.
Clients have made money several times in the past 10 or 12 years by purchasing Proof Gold and Silver Eagles when premiums were low or near the same price as the bullion coins. I have clients who have traded back and forth with Proof Gold Eagles as premiums have jumped and dropped and ended up with 50% more gold without spending a penny.  
I don't want to confuse the issue by trying to explain every situation. The idea is to buy or trade into items when the premium is low and trade into other bullion items when the premium is high. 
If you have Proof Gold or Silver Eagles, you should give me a call. 
PREMIUMS ON SILVER EAGLES ARE THROUGH THE ROOF 
Premiums on Silver Eagles have tripled. That means they are currently worth 30%-40% more than spot silver.
All silver premiums are higher than normal simply because its been tough to get enough physical silver bullion. However, the premium on Silver Eagles is higher than I have ever seen it and it is creating an opportunity for clients who already own them.  
Take advantage of the market and end up with more ounces.