UP IS DOWN RECESSION IS STRONG ECONOMY AND OTHER FABLES FROM OUR GREAT LEADERS
UP IS DOWN RECESSION IS STRONG ECONOMY AND OTHER FABLES FROM OUR GREAT LEADERS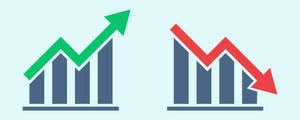 GOLD AND SILVER HAVE ROARED BACK TO LIFE THE PAST TWO DAYS.
Gold is back over $1,750 after briefly dropping below $1,700 last week. Silver is over $20 after hitting the low $18 area.
It's amazing that no one wants to fix the economy or worry about inflation or recession. Instead, they want to point the finger and blame someone else. Worse yet, their solution is to change the definition of the word "Recession".
I don't know where the current administration finds so many incompetent people. You would think just by dumb luck they would get one or two people that were not total idiots.
I don't really care whose fault any of it is. FIX IT. That's what leaders do. They lead, they fix problems. They don't blame everyone else and whine that no one understands them.
OK. I am a bit sidetracked.
The Fed raised rates .75%. That's huge. They were noncommittal about what they plan to do going forward. They're in a jam because they need to calm down inflation, so that means raising rates. However, they don't want a deep recession. That means not raising rates too much. So, they basically said-We will just have to see what happens!
In the meantime, we have a new grand spending bill that was just passed. Brilliant!
Isn't that what got us here in the first place? I am sitting here listening to the President claim that spending more money will bring down the deficit, let me repeat that, more spending will bring down the deficit.
We are in an economic emergency and the plan is to spend money and raise taxes.
Economics 101- don't raise taxes in a recession!
In the meantime, politicians continue to get rich.
The rest of us need to protect ourselves from the disastrous government policies.
Now President Biden is claiming we are not in a recession. You can call it whatever you like but the economy will do what it will regardless of what the government says. Its like needing to lose weight and solving the problem by adjusting the scale instead of doing anything to accomplish the goal.
Warnings of impending crisis are being sounded everywhere. Dr. Doom, Nouriel Roubini, who predicted the 2008-2009 financial crisis, has warned that the country is headed for a severe recession, severe debt and financial crisis.
More spending-more taxes-more government.
I believe the metals are at bargain levels and I am adding to my personal portfolio.