Why such a demand for fracionals
Why such a demand for fracionals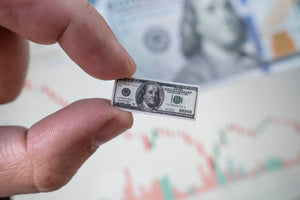 Gold breached $1850 just days ago and has dipped today as much as $52 an ounce, making this a great opportunity to buy.
Crazy that gold dipped because increased fears of inflation but this is a typical reaction to the higher interest rates expected by the Fed.
This has been a common occurrence since Thanksgiving. An initial pullback on the announcement of higher rates only to be followed by a run up in gold prices.
There is a big demand for smaller sized gold coins and just not that many to choose from. Buyers like to buy smaller sized coins for a variety of reasons. They feel they may be able to trade or barter with a tenth of an ounce gold coin rather than trying to trade with a full ounce. And while silver fits the bill for barter or trade, its just so bulky. Try to carry $10,000 of silver around. If you ever bought a Bag of Silver coins or even traded a Monster Box of Silver Eagles, you know how hard it is to stockpile any significant amount of silver. That same amount on gold would fit in your pocket.
Demand for the smaller gold coins is only growing as more and more people get worried about inflation and sheer incompetence in government. The Fed is talking about 4-5% interest rate hikes this year alone. This will indeed push inflation even higher. They showed their fear today when Fed Chairman Powell indicated the Fed "had a lot of room to raise rates".
That indicated that rates could go up a lot more than what we were led to believe.
I just purchased 1,080 One Tenth Ounce Canadian Gold Polar Bear coins. The coins have the same obverse as the Maple Leaf and has a Polar Bear on the reverse. They are .9999 fine gold-pure 24 karat. You can save a lot of money compared to any other small gold coins in the market. These are high quality, uncirculated coins, not random scruffy coins that you see in so many "discount" dealers' ads.