GOLD AND SILVER HIT RECENT HIGHS ON INFLATION CONCERNS
GOLD AND SILVER HIT RECENT HIGHS ON INFLATION CONCERNS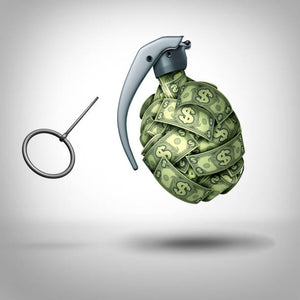 Inflation, spending, debt, and money printing all eventually add up to higher prices for precious metals. After a jump in prices last week, we saw a little profit taking and gold bounced around as I predicted. The $1800 mark is a big psychological barrier that we need to see taken out. I told many clients that it would not be a straight line up but more likely a back and forth until we saw gold really break through.
Gold moved up $30 to $1814 earlier this morning. Silver up to almost $25 an ounce; quite a nice jump since hitting $21.52 just a month ago. Platinum was up to $1078 before backing off to $1061. I believe platinum could head back towards $1350 as auto makers start getting the computer chips they need to get production going. That may take a few months but better to buy while prices are still relatively cheap. 
Gold could make a nice run once it establishes a strong move above $1800.
It appears that global inflation is rising, and more and more people are believing it likely will not be transitory. As we all know, metals become more favorable as an inflation hedge when prices are rising. The government talking heads can keep making excuses, but the facts are clear. Oil has hit a 7-year high and many raw material prices have surged. The Fed has signaled that they will start tapering their bond purchases very soon. This means higher interest rates. I quote below from an article on KITCO.
"Gold and silver bottomed in Dec 2015, just as the Fed started raising interest rates for the first time in seven years. Gold went up with rates in the 70's. The federal funds rate went from 1% to 5.25% and gold doubled."
I don't believe everything I read but this does coincide with what I have said for most of this year. Initially higher rates push gold down in price as investors go for the "sure thing"- higher interest. However, once you throw inflation into the mix everything changes. Once inflation is expected, the higher rates only confirm the higher inflation expectations and that is when metals move. If we aren't there yet we are very close.
If you want to add to your holdings, please give us a call. I have a variety of gold and silver coins and bars available.