Is Gold Going to $2500/$3000?
Is Gold Going to $2500/$3000?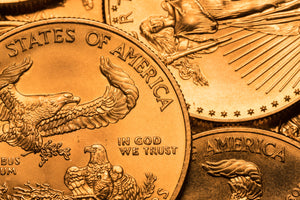 Wealthy people are stocking up on physical gold, as in bullion, coins and bars, according to a recent note from Goldman Sachs. As a result investors who are bullish on gold say it's the precious metal's moment to shine.
"I think gold's going to $2,500, $3,000 an ounce in the 2020s because the climate—the landscape for gold is so hugely supportive." Paul Schatz, Heritage Capital president, told Yahoo Finance's On The Move.
In a recent note Goldman Sachs presented reasons for owning gold citing recession concerns and political uncertainty as catalysts for an investor shift to gold. Over the past year, gold prices have risen nearly 20% and gold is on pace for its best year in a decade.  By 2020, Goldman thinks the price of gold will reach $1,600 an ounce.
Schatz thinks Goldman's forecast is too low. "I think Goldman is way off here," he said. "$1,600 is going to be a footnote." 
What's interesting this cycle is that it's not just gold ETFs and other abstract investments driving demand for gold but rather people buying actual gold bullion. "Physical gold seems to really be in... and basically it sounds like rich people are hoarding physical gold, the bullion itself," said Yahoo Finance's Myles Udland, co-anchor of The Final Round and co-author of Morning Brief. In Goldman's "view that squares with demand for vaults and everything. But I just think end of the world trades are fun, and it seems like the global rich want the actual thing," he added.
According to Schatz, "an individual investor should have 5% to 10% in some capacity in precious metals. People who don't trust the markets, don't trust paper will want to buy gold coins. Anything that they're comfortable," he said. "You want to buy gold stocks? Fine. You want to buy GLD? Fine. You want to buy gold coins? Fine."
For people who don't want to store physical gold, in the manner of bars and coins, in their basement, gold ETFs are an alternative, said Schatz. "If you want to leverage play, you play the stock ETF, " he added, highlighting it as a practical way to own gold.
Read the full article from Yahoo Finance here