What's next? The right financial move during the COVID-19 Pandemic
What's next? The right financial move during the COVID-19 Pandemic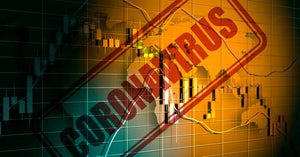 UPDATED: 31st March 2020
If you're considering gold, there are several ways to buy that I strongly recommend over and above regular bullion.  Precious metals are outperforming the stock market right now and there smart moves based on historical data. 
Call AmFed today for up to the minute advice at (800) 221-7694. 
No doubt you've seen the huge sell off of stocks and massive fluctuations in the metals market the past few weeks.  People are scared, schools/sports events cancelled, and many are staying inside under stay at home orders.  T
You can count on the politicians and news networks refusing to let any good crisis go to waste this election year. 
The Federal Reserve has stepped in and lowered interest rates to ease financial pressure.  Historical data suggests this will likely push gold even higher, just as it did in 2008.  Back then, gold doubled after an initial rally and correction as financial markets tumbled. 
There are smart buys right now, but this is a fluid situation so call today for our latest recommendations.  .