CURRENCY COLLAPSE EXPLAINED
CURRENCY COLLAPSE EXPLAINED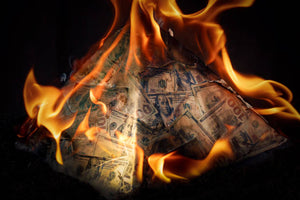 TUCKER CARLSON EXPLAINS THE REAL THREAT TO THE DOLLAR IS LOSS OF RESERVE STATUS
I have been trying to tell people that the biggest threat to the US and the dollar is the dollar losing its reserve currency status. Trillions of dollars are held outside the country and are used to purchase oil and other goods between countries. Since the end of WWII, the dollar has been used by foreign countries as a store of value and used to trade between countries based on the Bretton Woods Agreement.
PLEASE, PLEASE, PLEASE WATCH THIS VIDEO.
Tucker Carlson: Biden is sending our treasures to corrupt oligarchs | Fox News Video
Carlson does an excellent job of explaining what it means to have the dollar as the world's reserve currency and what happens when countries decide to abandon the dollar, which is happening right now.
If this doesn't convince you to buy gold nothing will.
If after watching this and you feel the need to protect your money call us at
800-221-7694