COMING TO A BANK NEAR YOU IT MAY GET HARDER TO GET YOUR MONEY OUT OF THE BANK
COMING TO A BANK NEAR YOU IT MAY GET HARDER TO GET YOUR MONEY OUT OF THE BANK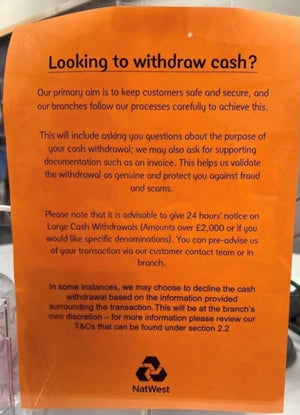 This notice was sent to me over the weekend. Granted it's a British bank, but its really not much of a surprise.
I believe we are going to see similar notices here in the US. In fact, the Banks have already made it hard for people to withdraw cash and even cashier's checks and bank wires in some cases.
Last year I wrote about just a handful of cases that clients reported to me or that I experienced myself.
One client had her bank refuse to send a bank wire to us for more than $50,000. They would only send that amount to a title company. Other clients had the bankers asking what they were doing with money they were withdrawing.
It's getting harder and harder to do what you want with your own money. 
And things are likely to get worse. They want to know why you want to do anything with your own money. They want to "protect you". After all, we need the banks and ultimately the government to make sure we don't do anything foolish, right?
I don't think any of this is "news" to most of us. What is surprising is how fast it's happening.
I have been in this business for over 40 years and have heard every conspiracy theory there is.
I admit that I got very complacent and had the attitude that while a lot of what I heard about government interference and control was likely to come true- it always seemed like it would happen SOMEDAY.
 I think "SOMEDAY" is here.
I just bought more gold this morning for myself. My wife bought a bunch last week with money she had in the bank.
I believe it is imperative to park some money in precious metals right now.
The best part is that the prices are much lower now compared to just a few weeks ago. Of course, most buyers don't buy when the market is down. For some reason they all jump in when it's roaring ahead.
It is easy to procrastinate when the market is slow, but you may pay the price later.