SILVER IN SHORT SUPPLY MAKES THIS 90% SILVER SALE SPECIAL
SILVER IN SHORT SUPPLY MAKES THIS 90% SILVER SALE SPECIAL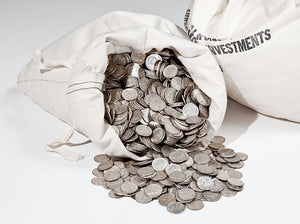 If you have shopped around for silver lately you are likely aware that prices are high even though silver spot price is low.
Worse yet, long wait times for delivery are common. Many new issue silver coins are weeks if not months out for delivery.
There is a shortage of physical silver. There has been for months and I don't believe it will get better anytime soon.
With silver spot at around $19 an ounce, your real cost on most products is much higher-if you can find it.
Silver Eagles will cost you more than $36 a coin!  
It has been hard to find anything great to offer my clients
I BOUGHT A NICE GROUP OF 90% SILVER COINS
I FINALLY HAVE A SMALL INVENTORY OF SILVER KENNEDY AND FRANKLIN HALF DOLLARS.
What makes this offering special is not just the competitive price, but also the quality of the coins.
Most 90% silver or "junk" silver coins are well worn. Lately a lot of what I see being sold could be damaged and even corroded coins.
The coins I bought were sold by another large dealer as BU-or Brilliant Uncirculated condition.
However, they simply don't meet my standards for that quality.
You get much higher quality for the same price other dealers charge for old worn out pre 1964 silver coins.
For you Silver Dollar lovers:
I also bought 50 1921 Morgans. They too were sold as Uncirculated but they really don't meet the strict standards, so I am selling them for circulated dollar prices