Queen Virtue
Queen Virtue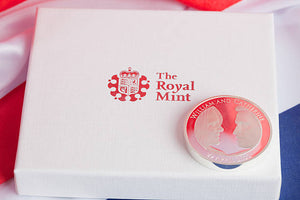 The Queen's Virtues - Victory One Ounce Silver Bullion
The Queen's Virtues are the principles founded by Queen Victoria and carried forward by Queen Elizabeth II. The core virtues Victory, Truth, Justice, Charity, Courage, and Constancy. The Queen's six virtues were first presented on the Victoria Memorial, situated outside of Buckingham Palace.
Now for the first time, The Queen's Virtues are celebrated in a historic six coin series. The first coin in this magnificent series represents Victory, one of the most prominent virtues a Monarch can hold, the triumph over an enemy. Victory is a key element in both Queen Victoria and Queen Elizabeth II's reign. Victory signals the end of the conflict and a celebration of peace. The Queen as Sovereign is Head of the Armed Forces and is still the only person able to formally declare war and more crucially, an end to conflict.
The Queen's Virtues Victory one ounce silver bullion coin is official legal tender of Saint Helena. The reverse of the coin features Victory, modeled after the Winged Angel at the top of the Victoria Memorial. The rim has the words Victory Through Harmony and The East India Company mint mark. The obverse bears the effigy of Her Majesty Queen Elizabeth II by internationally renowned sculptor Raphael Maklouf, the issuing country St. Helena, the denomination £1, the weight, fineness, and the year date. Both the obverse and reverse features an East India Company pattern in the fields.
The Queen's Virtues Coin Series 
Victory
- Winged Victory, in her hand a Victors Palm an ancient symbol for victory, triumph, and peace.
Truth
-A Winged Figure holding up a mirror to Nature, with a child holding a palm branch.
Justice
- A Winged Angel holding a sword.
Charity
- "Motherhood" taking care of the young and suffering.
Courage
- Wearing a helmet and bearing a club.
Constancy
- Holding a ship compass symbolizing staying on course and a committed purpose.