INFLATION IS ALIVE AND WELL
INFLATION IS ALIVE AND WELL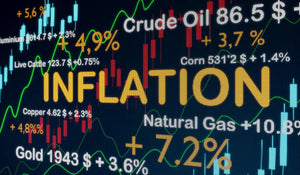 The Consumer Price Index came in higher than expected again today. Experts were expecting 8.1% increase in prices over last year, but the inflation number came in at 8.3%. The talking heads are pointing to this as proof that inflation has slowed or peaked. Biden said the same last year when inflation was a little above 6%.
The reality is even if inflation stays where it is, that is FOUR TIMES what the Fed was hoping for. I don't think raising interest rates really matters as much for fighting inflation this time around.
The biggest problems are the price of oil, gas, and fuel as well as the broken supply chain. Even if the administration was trying to do something about these factors, it would take a long time to fix them. I don't expect inflation to go away in the short run.
Gold, silver and platinum reacted positively this morning in response. Platinum has been the best performer lately. After hitting a low of $910, platinum is back above $1,005 today.
The dollar is strong because of higher interest rates and the Fed is expected to raise them much higher. Higher rates are initially bad for metals, the stock market and so far even crypto currency. The Dow was over 35,000 just a few weeks ago. It was under 32,000 yesterday. Bitcoin has gone from $40,000 plus to under $30,000. Gold has also dropped. It briefly hit $2,000 an oz. before this past week's fall to the mid $1,800s. The difference is that gold (and silver) generally increase in value as inflation becomes entrenched. Currently gold buyers are benefiting from the strong dollar and higher rates which are helping to suppress the price. How long do you think investors will be excited by returns of 3% when inflation is over 8%? That's a guaranteed loss of 5%.
Today the inflation index was released, and I believe it's obvious that inflation is here to stay for a while. Ultimately that is very positive for gold and silver. It's a great time to buy if you have been waiting for an opportunity. No one knows what the prices will do day to day. No one knows if there is any downside left. BUT I do know it's cheaper now than it was two weeks ago and that makes me want to buy.