CLIENTS MADE UP TO 121% ON MY RECOMMENDATIONS
CLIENTS MADE UP TO 121% ON MY RECOMMENDATIONS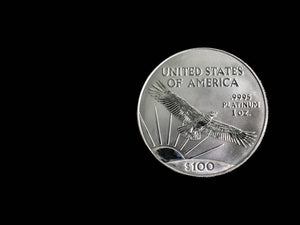 CLIENTS MADE UP TO 121% ON MY LAST MAJOR RECOMMENDATION 
WHILE GOLD WENT UP 50% 
I FINALLY HAVE A NEW RECOMMENDATION  
Once every few years an opportunity comes along in the coin and bullion market that really gets me excited. The last one was about 5 years ago. There are not that many exceptional buys in the market. 
Of course, whenever I get a great price on specific coins or bullion, I always let you know via email. 
This is different to the last great deal I found. I only wish I could find these deals more often. 
Many of my clients remember the last time we recommended a slightly different type of "bullion" coin. 
We recommended Gold Eagle coins in Proof condition. 
There were several reasons.   
The coins traded as bullion coins. That simply means that they went up and down in price everyday with the price of Gold. 
The coins were low mintage in comparison to regular issue Gold Eagles. 
The premium (cost over spot) price was relatively low compared to other coins with similar mintages and demand from gold and coin buyers. 
They were highly liquid, unlike many of the modern certified coins being hawked or the foreign so-called rare coins being sold. It's incredible that some dealers are selling coins from Malta of all places at 3 or 4 time the value of the gold or silver. They claim these will be great collectors' items. I can guarantee you that the only thing rarer than these coins is someone who wants them. 
Instead, I have found an extremely undervalued United States Bullion coins that has half the premium. This undervalued coin is very low mintage and many of the earlier issues were melted, making them even harder to find. 
I see dealers trying to locate these coins every single day on the CCE. CCE is the dealer-to-dealer network where we send various messages to each other either offering to buy or sell coins. By the way, I have NEVER seen any dealer asking to buy Malta made coins.   
The coins I am talking about have mintages of as little as 3881 coins to as high as 20,851 for the first year of issue.  
Just to give you an idea of how rare these are in comparison to other modern US coins, look at the 1995-W $1 Silver Eagle in PROOF condition. There was a total of 30,000 coins minted and they sell for as much as $15,000. That's $25 worth of silver. Even an off-grade coin sells for $3000 OR 120 times the price of silver!    
Now compare prices of "rare" date Gold Eagles to the low mintage Platinum Eagle. 
The 1991 ½ oz Gold eagle is listed for $4,400 with a mintage of 24,100. Or, the 1988 ½ oz for $3,180 with 45,000 mintage. 
That's more coins produced than any date of Proof Platinum Eagle. One ounce Platinum eagle Proofs start around $1,600! 
Even more rare are the 4-piece Sets which contain 1, ½, ¼ and 1/10 th oz coins. These sets were only produced from 1997-2008. I believe most of the sets have been broken up by dealers and collectors as they assembled complete sets and had coins certified. I doubt anyone could amass more than a couple thousand sets of all dates combined. 
I know that I tried to buy as many Proof Platinum eagles as I could and faced stiff competition. I bought out one major dealer's entire inventory for under $100,000. When I looked online to see if anyone was offering Proof Platinum Eagles I was only able to find a handful of coins at any price. 
Although the coins do have a higher premium than bullion, that premium has held up for many years. There is current push for these coins and virtually no supply available. The risk is minimal, and the potential is great right now. I can't predict the future price; however I have seen this scenario before, and it has lead to much higher prices.  
If you have some money you would like to put into something a little different without getting carried away with the outrageous prices that dealers are asking for similar coins- THIS IS FOR YOU. 
I CANT GUARANTEE I CAN BUY ANY LARGE QUANTITIES SO GRAB THEM WHILE I HAVE THEM.